ONCE YOU START UP
Ok. So when you sign up for the 1st time on here, you will see a lot of blue pucks. Now those blue pucks represent NEW POSTS. To simply get rid of all of the blue pucks is to click on the "Mark all Forum's read" link! You are now on normal mode! Ok. So now you are probably wondering there's so many topics, which one is the main one? Well this is a simple answer:
THE MAIN THREAD: This is like Ek's main blog on HB. This is where the shit goes down. We dont give a fuck if it's off topic conversation, as thats what it is 1/2 of the time! Post whatever the hell you want. Anything goes on here!!! So really dont worry about all the other blogs! This is the main one!
OTHER FORUMS
Hockey Related Topics: Under here you can post anything that's hockey related! No seriously, anything hockey related! Whether its questions, predictions, or just a blog, you can post it under here!
Misc Thread: Under here you'll find the site's achievements and records, the Word Association game, and some more! If you want to create a blog under here thats just sort of random, go ahead! NOTE: This thread has been dying quite lately and is rarely used anymore!

USING THE CORRECT QUOTE BUTTON
Alright. So for the HB'ers on here, you probably think you use the quote button at the top... NO!
You use the quote button at the BOTTOM of the post you want to quote
. Say you wanted to quote THIS POST, Here is a screenshot of what quote button you should use!: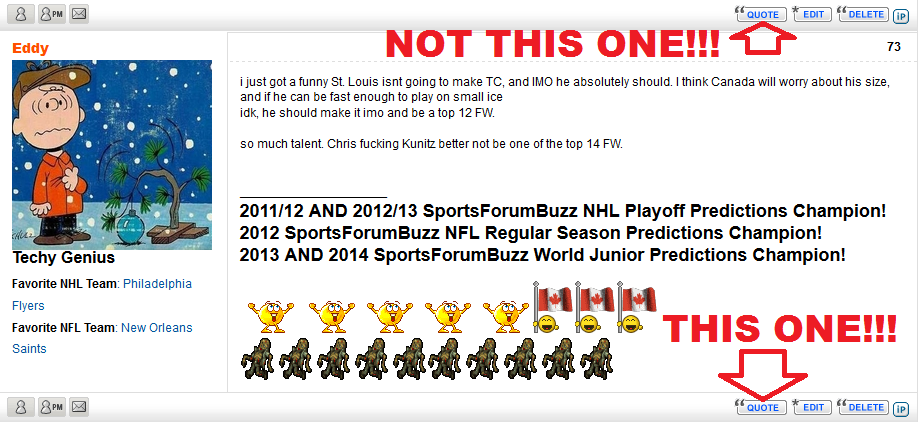 To edit your avatar, either click on the "Other" arrow and click on "edit avatar" or click on "Welcome (your username here)", then click on "edit profile" then "avatar". On here you can make your avatar size 200 width x 210 length. It must be under 64 KB. Just a heads up that you can make your avatar bigger!
Here is a site to resize gif avatars:
http://www.online-image-editor.com/
Best site to resize normal avatars:
http://www.picresize.com/
*Make sure you select "JPG" and "BEST" in the scrollbar!!! Again, must be under 64 KB!
Once ya got time, edit your profile! To do his, you can either click on the "Other" arrow and select "Edit Profile" or click on "Welcome (your username here), go down and select "edit profile"! So all of us can get to know ya better! Include your favorite NHL team ATLEAST!
MOST IMPORTANTLY!: DO NOT GIVE UP THE SITE IF YOU FIND IT HARD TO NAVIGATE THE 1ST FEW DAYS!!! IT WILL TAKE QUITE A BIT OF TIMES TO GET USED TO IT, BUT IT WILL BE REALLY EASY TO NAVIGATE AFTER THAT!!! DONT BE AN ASS!!!
And that is all you need to know about SFB new users! Enjoy your time on here!